Co-founded in Omaha, Nebraska in 1919 by Peter Koley and son Joseph, Koleys, Inc. specialized in plating and refinishing Sacred Vessels. The Koley's combined old world European craftsmanship with a commitment and drive for excellence in the Omaha community.
Since our very beginning, we have endeavored to serve the churches and clergy in repairing, polishing and replating of sacred vessels or other items used in the Church.
Five generations later, Koleys Inc. is a thriving business.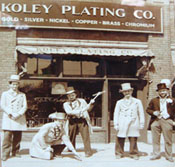 Our skilled craftsmen strive whenever possible, to restore to the original condition those cherished ecclesiastical items belonging to either church or clergy. Aside from removal of dents, scratches or pits, we are able to repair most pieces to original or near-original conditions. The items are then polished and refinished in the base metal or are then electro-plated accordingly in either silver or 24k gold.
We at Koley's understand that these items constitute an investment by the church or clergy and that they must receive such care as not to jeopardize either the piece or its security until it's safe return. This is something that is not taken lightly by this firm. We understand that the investment is enhanced by proper and careful restoration of such items. The security of your investment is found in our professionalism and integrity.
With God's help, the Koley name is now internationally known. We know the significance and the meaning behind the functonality of each and every sacred vessel.
From the president of the company, to the shipping department, our company understands the history and trust you allow our firm to rework these artifacts of the past. Whether it's a chalice that's donated by a past beloved family member or special family heirloom, you can rest assured that we will do everything in our power to finish the item back to the best possible condition for generations of future use.
Koleys is well represented thoughout the United States and Canada, with a full line of religious products to beautify your sanctuary and fulfill your churchgoods needs. Peter Koley was the inventor of the "One Chain Censor" and Koley's, Inc. now has a full line of liturgical accessories in our 40-page catalog available on request.